Welcoming our Ambassador Class of 2024
We're delighted to announce our new Ambassador Class of 2024, sponsored by Playground Games, who will be representing the charity in the next calendar year (and beyond!).
This year saw a phenomenal 220 applications, and just 30 places in the cohort: we were truly blown away by the quality of these applications and want to extend a huge thank you and congratulations to everyone who applied this year.
We're absolutely thrilled with our selection for 2024, and can't wait to see the ingenuity and passion that these 30 individuals have shared with us already. Please join us in celebrating the brand new cohort who will support Safe In Our World's mission!
So without further ado, here is the new class of 2024:
MaizyMarzipan
Once again, a huge sincere thank you to every single person who submitted an application this year. This decision is never an easy one, and we're so grateful for the sheer amount of passion that our applicants have for wanting to be a more involved part of Safe In Our World.
Seeking an Autism/ADHD Diagnosis and its effect on mental health
Recently we asked our community on their thoughts about the challenges and experiences associated with seeking a diagnosis for ADHD and/or Autism.
For those who don't know, ADHD and Autism both fall under the spectrum of neurodiversity; a broad and debated term covering a huge range of brain functions, mental illness and how we interact with the world around us.
Over the past 3 years, we've seen a huge rise in the number of adults seeking diagnosis, with the ADHD Foundation reporting a 400% rise, and the UK's NHS reporting autism referrals having trebled since 2019.
Amongst an array of other factors, this resurgence has had a huge impact on those currently seeking support, with extreme waiting lists on public health systems being reported.
The Challenges
Mags Donaldson mentions this as one of the biggest challenges in seeking a diagnosis, also mentioning that "I also felt a bit of a fraud – I was 38. If I was autistic, surely SOMEONE would have noticed by now? So I was worried about taking up the space of someone who 'genuinely' needed it. Despite being told by my psychotherapist to seek diagnosis."
Chochy discusses their own challenges in seeking a diagnosis, highlighting the level of self-advocacy that they need to start the process.
Contrary to popular belief, doctors and mental health professionals in my experience often don't see a reason to give a diagnosis. The result is a process where every step you have to fight to prove why you need one. I even had a doctor for one ask me why I would want to be labelled with a condition that might make MH professionals think worse of me.
Atari shares her own experience, highlighting that "the biggest challenge was actually starting the process. It ended up taking me many more years, until I was in my 30's, to actually get on the waiting list for a diagnosis."
The thing I was trying to get diagnosed for was one of the very same things that was keeping me from getting diagnosed. It was like a vicious circle.
Another side to this is looking at the concept of appearing 'high functioning' and how that can also have an impact on how you are treated. Kerry discusses this experience; "I have always been a high achiever, someone well-liked, and someone who could seemingly manage it all. So, when it came time to seek out mental health treatment, it was difficult to prove that I needed help. When I did receive help, it was easy for my care staff to dismiss me because I was "so self-aware", because I am "high achieving", and because I am "well adjusted". I'm certain they believed me from what happens behind closed doors, but, it was difficult to see the impact in my day-to-day life until it got really bad."
So, once you get that diagnosis, how does it feel?
Similar to our mental health diagnosis article, two of the top words mentioned here were 'validating' and 'relief'.
Panne, who also discussed the lack of accessible and free resources available to those looking to get support, said that by far their biggest feeling upon receiving a diagnosis was validation. "I no longer felt that I needed to caveat my mental health in discussions by adding "I'm self-diagnosed" when I can now just say "I have ADHD." I felt proud that someone else had seen in me what I'd known all along, but also disheartened that it took years of self-advocating for someone to even look."
Atari found the process of being told about her diagnosis to be surprisingly emotional, "when the psychiatrist told me she would be diagnosing me with inattentive ADHD, I cried immediately. I apologised, and I was astounded when she explained to me that it was a normal reaction. Finally getting a diagnosis was the most relief I've felt in my entire life."
What can we do?
Deciding whether or not to seek diagnosis is a completely personal choice, with many nuances affecting our decision making process. Here are some final thoughts from our contributors on what you can do to make that process a little bit easier.
Kerry shares her advice following her own journey; "Don't give up. Come prepared with anecdotes. If it's safe to do so, reach out to your family who can speak to how you were as a child. Take time to reflect to determine if receiving a diagnosis is right for you. Self-diagnosis is often valid, but a professional diagnosis can impact things legally, professionally, and else."
"Don't be afraid to access tools or resources without/or while waiting for an official diagnosis," Panne adds, "your mental health and experiences are just as valid and if you find a coping mechanism or support system, then you deserve to utilise them. Once you have a diagnosis or are on a diagnosis pathway, share how you got there with everyone you know, they'll need your knowledge."
Lauran encourages others who might be unsure of whether to look for support, "Firstly, DO IT! Whether diagnosis leads to you getting medicated or therapy, knowing that you have a neurodiversity is half the battle. Once diagnosed you'll be kinder to yourself for you 'failures' and you'll be able to put things in place to help you cope with life/work/difficult situations."
It's important to recognise that not everyone's journey will look the same when seeking support, whether it's for ADHD or anxiety. "It's gotten much better, but there is still a stigma when talking about mental health and being neurodivergent in the black community," Atari explains, "in many cases you will have to be your own biggest advocate. No one can make you go into the diagnosis process, so you must do that for yourself! Think about how your symptoms have affected you throughout your life, and make sure to write down everything you would like to mention and/or talk about so that you can have an honest and open conversation that gets down to the root of what you're going through."
Resources on ADHD and Autism
Learn more about autism
Learn more about ADHD
PRISM: Creating safe spaces for our people
Guest post by Alif Trevethan, Inclusion and Belonging Manager at Sumo Group, one of our Level Up partners.
In 2021, Sumo Group launched its internal Inclusion and Belonging community, PRISM. What started as a small, ambitious group passionate about diversity in the games industry has evolved into a 350+ strong community safe space full of inspiring people dedicated to creating meaningful change.
PRISM is a space for underrepresented and/or marginalised people to find community, resources and connection, and be part of active change across all of Sumo's studios. It is also a place where our marginalised people can find a safe space for meaningful discussion, transparency and kindness – which we need now more than ever.
In a world of constant hard headlines, political unrest and threats to marginalised people, PRISM is somewhere our people can find safety and solace in community.
What is PRISM?
PRISM is many things, but ultimately it helps Sumo foster an environment where everyone feels safe, welcome and represented.
PRISM houses four main community streams – CHROMATIC (Underrepresented Ethnicities), IRIDIAN (LGBTQ+), ULTRAVIOLET (Marginalised Genders) and WAVELENGTH (Ability & Wellbeing), and each has cultivated an incredible, engaged community. They're able to openly discuss topics, ask questions or raise concerns in a safe and understanding environment, meet new people and find community.
These streams are accessible for anyone within Sumo to join regardless of if they are a member of that community – welcoming allies to these streams means our people have the opportunity to learn and contribute.
Both CHROMATIC (Underrepresented Ethnicities) and ULTRAVIOLET (Women & Marginalised Genders) also have closed channels for members of their communities who may want to keep particularly difficult and personal discussion.
Each of these streams have Diversity Champions acting as compass points for their community. These passionate and insightful change-makers carry the feedback and concerns of their communities to Sumo leadership, and are able to encourage, instigate and – if needed – mediate difficult conversations.
Creating safe spaces
The world is so heavy. Between never-ending news and scrolling social media, people have little to no respite… and this can be a lot of weight to carry around all day, every day.
PRISM helped me find myself and let me feel less alone as I find my place in games. – Ladell – a Diversity Champion for the Chromatic stream 
We spend large chunks of our lives in working environments, and PRISM has created a community of people able to have honest and meaningful conversations, provide resources and advice, and provide solace to one another. It's more important than ever to create safe and understanding spaces for people to talk freely, seek support and connect with peers who understand and empathise with their situation. It's not to say that understanding and empathy is lacking elsewhere, but that not every conversation is right for every room. PRISM is full of actively engaged, likeminded people and creates a space for people to share openly, express concern and be validated in their feelings when the world is so full of grief and disruption.
Finding connection at work
In addition, PRISM is an amazing space for connection. It's been so heartwarming to see just how our PRISM members support and help each other. It can be hard for people (especially underrepresented folks) to find peers going through similar experiences, and I'm so proud of the space we've created for people to not only find community, but also access a wealth of knowledge, expertise and experience. I've witnessed first-hand conversations in PRISM from folks looking to start the transition process but not knowing how to approach it at work, or people wanting to access a neurodiversity assessment but finding it overwhelming who have been met with so much love, support and useful, actionable steps and advice.
Education in community
With every conversation comes more learnings and as PRISM continues to grow, our amazing bank of resources does too! The possibility of education is always there, it's always free and accessibility for everyone both on Teams and on our internal learning platform, and I cannot wait to see it continue to develop.
We are so lucky to have such an amazing bunch of people within PRISM, and their pure generosity of spirit and genuine love and support for the community makes me proud beyond belief.
"PRISM introduced me to other people like myself at a time when I needed that more than anything." – Robyn – a Diversity Champion for the Iridian stream 
Find our more about PRISMs journey here.
Code my Crown: Changing the Game for Black Hair in Video Games
We're thrilled to see a brand new initiative from Dove and the open source afro hair library create 'Code my Crown' – a guide to the creation and celebration of Black hair textures and protective styles in video games.
The video games community has the power to create alternative realities whilst letting players feel seen and represented, but often options for Black hair are slim, with just 7% of hairstyles in the 4 top games in August 2023 offering textured or protective styles. 
85% of Black gamers think video games poorly represent natural hair, as referenced in the video below, which adds to a lack of sense of belonging for many Black gamers in this space. We spoke to Atari, who discusses why the campaign is so important.
"On the day of the shoot, I was filmed getting my hair done by Nai'vasha, a celebrity hairstylist, while having a conversation with A.M. Darke, founder of the Open Source Afro Hair Library. We all talked about my experience in gaming, and the lack of accurate representation of Afro hair in video games. We looked at some examples in games that felt like our hair was just an afterthought, and we looked at some examples in games that felt our hair was done with as much effort as white characters in the same games."
Atari goes on to explain the process of the shoot, "A.M. and Isaac, who was a Lead Developer on the campaign, made 3D modeled versions of myself, including my hairstyle! We weren't allowed to see the process until it was done, and I really appreciated that because the surprise you see in the video from the 3 of us women is real!"
The campaign shows how it powerful it can be, and the impact it can have on gamers today. Atari agrees, saying that "This campaign is important to me because it brings awareness to a major representation problem we have in the gaming industry, but it also brings awareness to the solution! This is a free guide that devs can use to make their characters look like the people who play their games, and that is worth everything to me."
The Dove guide offers instructions, personal insights, detailed references and full open-source code, created by people within the Black community, for anyone to use to create characters in the digital world.
We recently saw BAFTA host a masterclass talking about the spectrum of authentic Black hair and makeup representation in games, as well as in film and TV, which featured Safe In Our World Ambassador Jerreau discussing the need for more authentic representation.
Also featured on the panel was Patron of Safe In Our World Danielle Udogaranya, who is known for her incredible work in creating inclusive 3d modelled hair, clothes and accessories, working directly with The Sims on the addition of over 100 skintones and afro hair. She recently had her work shown in an exhibition in Italy.
A powerful article from Evan Narcisse, written back in February 2017, discusses the lack of diverse options within the character creation process, mentioning that "I can reproduce my thick lips or wide nose sometimes. A goatee? No problem. But when it comes to head hair—specifically locks that look like what grows from my scalp—I'm generally out of luck." Narcisse then went on to be a design consultant for Marvel's Spider-Man: Miles Morales.
We want to highlight these fantastic resources in the hopes of more inclusive hair options being implemented in games, providing free resources to game devs so they can truly level up Black hair.
Safe In Our World Charity Bundle 2024
We will once again be launching our annual charity bundle with Fanatical in early 2024, and we're looking for partners to get involved!
Our 2023 bundle sold out in a record 24 hours, raising almost $100,000 for Safe In Our World, and we're excited to see the momentum carry on to the 2024 bundle.
Why get involved?
In our 4 years operating as a charity, we have:
Enrolled 150+ Level Up Partners (over 50,000 employees) to connect them with training and support resources

Signposted life-saving resources to over 1/4 million gamers

Delivered over $250k free training

Provided free mental health training for 350+ Community Managers from 26 countries & 175 people in under-represented groups

Launched a mental health video games themed journal called Sidekick
Hosted a Mental Health in Games Summit with BAFTA
Co-launched an anti-toxicity campaign with Ubisoft, creating the Good Game Playbook
Created free mental health resources tailored to the games industry including on Menopause, Neurodiversity, Crunch and more
Delivered talks at GDC, Develop: Brighton, BAFTA
Been featured on renowned TV, radio and news websites highlighting our work
Previous Partners
We've worked with over 40 partners on our previous bundles, creating fantastic line ups of games and DLC, with all funds supporting mental health support in the games industry.
Get Involved in the Charity Bundle 2024
We're looking for Bundle Partners for 2024! If you'd like to learn more about how you can get involved and support mental health in the games industry, reach out to the team here.
Seeking a Mental Health Diagnosis
Seeking a diagnosis for your mental health can be a daunting, relieving, or even exciting concept for many. We spoke to our community about what it feels like to get a diagnosis, the steps to getting there, and what they would suggest to others looking to walk the same path.
Depending on where you are in the world, the path to diagnosis can vary greatly, and present new barriers that others might not face. Diagnosis (or misdiagnosis in some cases) can also look different for many folks when considering things like age, gender, ethnicity, economical status, disability etc. – it's important to recognise that different conditions will present differently in different people, and no one experience will be representative of everyone's.
Content Warning: non-graphic mentions of substance abuse, abusive relationships, PTSD, sexual assault/rape, anxiety and depression
Challenges in receiving a diagnosis
When we asked our community on their biggest challenges in seeking diagnosis, there were definitely a variety of responses but also common themes. Aradhalia commented "For me the biggest challenge in seeking a diagnosis was a combination of the lack of accessibility for young children to be seen/heard regarding mental health and the cost (both of the treatments/diagnosis and insurance to get me there).
I remember being 8 years old and trying to express to my mother how I felt I needed to see a therapist because I understood that how I felt wasn't 'normal'. Between that conversation, behavioral issues at school, and and problems making/keeping friends, its clear to me now that I definitely should have appeared to be a troubled child that needed some help from other adults at the time. However that did not wind up happening. I had to wait until I was 22 years old before I could afford to see someone and get diagnosed/treated.
Zelden shares her experiences as well, explaining that her biggest challenge was "accepting that my issues were not physical problems but actual mental health concerns. I've heard of doctors explaining away symptoms as "anxiety" or "stress" before and was scared that the chest pains and breathlessness I was experiencing were being written off. When seeking my first diagnosis I wasn't willing to accept that maybe there were outside factors (the aftermath of an abusive relationship) contributing to my sudden change in health.
"When I was finally ready to seek out a real diagnosis, my challenge became finding my voice to tell my therapist that I needed more help and I didn't think she could give it to me. I had to gain confidence in my decision to ask her for a referral to a specialist when I felt our sessions weren't working. Her methods were helpful for generalized anxiety but I knew in my heart I was experiencing PTSD and I needed more. Thankfully I was lucky. When I told my therapist this she replied, 'I know someone next door who can help you.'"
EJKoala had an earlier diagnosis of depression and anxiety when she was 14. "It wasn't until I turned 21 that I noticed something still wasn't right. I was raped multiple times by my ex around 2019/2020, and after I experienced that, I spiralled. I had flashbacks, nightmares, the whole 9 yards, and I tried to reach out for help but no one was listening."
I put myself on the waiting list for therapy and I finally got an appointment, the first session my therapist said to me 'You have PTSD, this is the wrong therapy for you, let me do a screening test for you'.
"I was in denial, I knew I had it but I was scared of getting the diagnosis itself. We did the screening and she just looked at me with the saddest eyes and said 'You've scored the maximum on the PTSD screening, you need help.' My heart dropped, someone finally heard me. Someone finally said the words, you have PTSD and it wasn't all in my head.
A few years after I had a complete mental breakdown, something else was missing – this wasn't a complete jigsaw piece. I called the local mental health team and expressed I was in a crisis. I attended a physical appointment not long after and once they assessed me, they told me that I had Borderline Personal Disorder, and I most likely had it all my life, but they couldn't diagnose me until I turned 21. Something clicked and everything fell into place. I had all the diagnosis' and they all made sense. It took from age 14 to 21 to get diagnoses with anxiety, depression, PTSD and Borderline Personality disorder."
Zoe discusses how her biggest challenge in seeking a mental health diagnosis was feeling like her doctors were taking her seriously. "I already have a difficult time with speaking to doctors due to my chronic pain & past experiences, which was making me second guess if I actually wanted to try to get a diagnosis. I'm very happy that I did eventually take that first step though; it was validating."
Another challenge mentioned was from Sarah, explaining the struggle of professionals not understanding the extent of their mental illness. "It took ten years from the first time I went to the GP for a mental health issue until this year when I've finally been able to access appropriate treatment for the first time."
"My mental health issues have existed since I was a child and with no support for most of my life I got very good at hiding and masking my mental health issues. This sometimes means that healthcare professionals don't 'see' the severity of my mental illness because I come across as calm when I talk about it (dissociating) and because I appear to be "high functioning" in my daily life by holding down a job, having friends, and so on."
How did receiving a diagnosis feel?
"Honestly? It freed me." EJKoala explains, "I spent years being scared of myself thinking 'who am I?', 'what's happening to me?'. I was confused and it caused me to spend my teenage years in complete isolation, jumping from relationship to relationship to fill some kind of void of not knowing who I was. I lost years of my life to being a complete shell and not knowing who I was and what was happening to me and why. When I finally got all my diagnoses I started to process my feelings, I started to understand why I felt the way I did and that it wasn't all in my head."
Sarah talks about their lack of official diagnosis, "I don't have an official diagnosis but I do finally have acknowledgement on my medical record that my mental health issues are more long term than 'anxiety and depression' and I'm finally able to access appropriate treatment, which is honestly amazing.
I feel relatively safe for the first time in a while, I feel like managing or recovery is possible and sometimes I feel like I could have a future."
However, it's important to address the difficulties that can follow diagnosis of more stigmatised mental illnesses, as Sarah explains here: "I've tried to find resources to help me explain my problems to others and all I've been able to find are articles that talk about how people with this condition are really difficult to work with, are bad friends, are bad partners, are generally difficult to be around, and it's painful. I keep accidentally stumbling across hate for people with my condition when I'm looking for support."
Aradhalia shares some of that experience, "I wasn't surprised at my diagnosis', but I wasn't thrilled either. There's a stigma against quite a few of the labels the doctors gave me, however knowing exactly how my brain was working and knowing there was a way to get it reigned in was incredibly liberating."
Zoe commented on having a mixed response to getting a diagnosis as well, with it being both upsetting and a relief. "I am someone who thrives on knowing what "why" something is happening, and so getting that "why" with my diagnosis gave me a good starting point to work with so that I could start effectively taking care of my mental health. However, getting my diagnosis did make me feel "labeled" as someone with mental health issues. This scared me because I was afraid of being treated negatively by others just because of how my brain is wired."
Relief was a common theme here, with Zelden comparing the moment of getting a diagnosis to " unmasking a villain in Scooby-Doo". She continues, "it became tangible and suddenly I could do something about it. It started with learning about PTSD and then grew into learning about ADHD and I was able to start tracing back events in my life that made me feel so alienated from everyone else and say, 'this makes more sense now.'"
Paving a path forward
Sharing our experiences and supporting others in their own journeys is fundamental to us continuing to learn and grow together. We asked our contributors to offer some advice to those looking to start their own journey:
Trust that there will be a day when you can get the answers you need. It may not be tomorrow, or next week, but it will happen. – Aradhalia
Fight, fight like hell. Please never get up seeking that diagnosis, if you know in your heart that something isn't right and you need help, reach out. Get that diagnosis so you can start to heal and proceed on getting better whether that be with medication or therapy. Everyone deserves to be heard, you've got this. – EJKoala
Do not be afraid to get a second opinion. You do not have to settle for the first therapist you meet as they may not be the person who can help you. – Zelden
Don't give up! You'll probably need to learn to advocate for yourself and also do a lot of research so you can communicate your symptoms and problems well and concisely, and so you have an idea of what kinds of treatments might work for you… You don't necessarily need a diagnosis if you can find a route to support that works for you. – Sarah
Sometimes that first step is the hardest step to take, but it is absolutely worth taking. Battling the unknown is difficult enough, and having a starting point for taking care of your mental health can help make things just a little bit easier. – Zoe
If you're looking to do more research on mental health conditions, check out our A-Z on symptoms and conditions here.
If you're looking for support, please visit our Global Helplines here.
Supporting Veterans' Mental Health with Stack Up
Over the next week we're partnering with Stack Up to highlight issues relating to the mental health of veterans, serving personnel, reservists, and their families. 
Military personnel face extreme pressure whilst serving, and this can remain – or get worse – as they return to civilian life. According to RAND, 44% of US veterans reported trouble adjusting, and 48% reported strains on their family life. Some of the leading mental health issues impacting veterans are depression, alcohol misuse, anxiety and post-traumatic stress disorder (PTSD). In the UK, the rate of military personnel seeking help for a mental health issue has increased to 1 in 8 (13.2%). In the US, 23% of veterans using VA healthcare struggle with PTSD, and their recent report shows that 16.8 veterans per day die by suicide.
Video games have been proven to support mental ill health, and this is no different when it comes to veterans. For example, VR gaming has demonstrated that it can be an effective therapy tool for PTSD in certain groups of veterans. Plus, video games can offer further opportunities for communication, help build rapport, and even offer a better quality of communication
Stack Up is a US-based charity dedicated to supporting US and Allied veterans, to help combat mental ill health and foster a community between vets and civilian supporters. One of the main ways they help to tackle loneliness and mental ill health, such as suicide, with veterans is through their Stack Up Overwatch Program (StOP). It offers round-the-clock support via Discord from a team of crisis management volunteers. 
In the run up to Veterans Day on November 11, we will be sharing personal experience stories and resources to support ex-military personnel and their peers.
Follow Stack Up on Twitter/X, Instagram, Facebook and TikTok to learn more about their work.
Resources
Camp Lejeune Claims Center – information on mental health issues affecting veterans, the stigma/barriers to accessing support, as well as additional support available.
Stack Up Overwatch Program (StOP) – The Stack Up Overwatch Program (StOP) is designed to watch over our community and provide critical support through round-the-clock access to a team of trained and certified crisis management volunteers. (For US and Allied countries.)
Veterans Crisis Line – Text, chat and calling resource (US)
US Crisis Resources and Support
The NHS, the Mental Health Foundation, and Combat Stress all have great UK resources, alongside the Samaritans and Mind's information on PTSD.
£20,000 raised for Safe In Our World from Press Pause 2023
We are so thrilled to announce that our community has raised over £20,000 for Safe In Our World's Press Pause 2023, with huge thanks to our partner Elgato for match-funding.
These funds will allow us to continue to signpost life-saving resources, provide mental health training for free to those that need it, work alongside our industry to offer more support, and so much more.
We're so grateful for everyone who got involved in Press Pause 2023; whether you were a fundraiser, donor, or if you were cheering from the sidelines. World Mental Health Day 2023 marked Safe In Our World's 4th anniversary, on which we reflected and celebrated our achievements since our inception in 2019.
Our community continues to blow us away with their generosity, support and dedication to our mission.
Highlights from Press Pause
This Press Pause has seen some huge creativity in our fundraisers, which we're delighted to share below:
Em Aspinall took on the challenge of walking from Elturel to Baldur's Gate, shown in this epic video detailing their fundraiser. And with a couple of days to spare, they not only smashed their (extended) fundraising goal of £2,000, but their walking goal of 200 miles. Even Larian Studios themselves were cheering Em on! But for us, one of the best things to see from Em's fundraiser was their self-reflection post-event, sharing just what their campaign had meant to them and how they wanted to carry on walking throughout the winter.
Carrying on the baton of walking, we saw Studio 316 in Cornwall collectively walk 80km over a couple of days, exploring the stunning Cornish coast along the way.
But the activities did not stop there. Wired Productions shared a series of fun Halloween-y activities including a costume competition and pumpkin carving competition.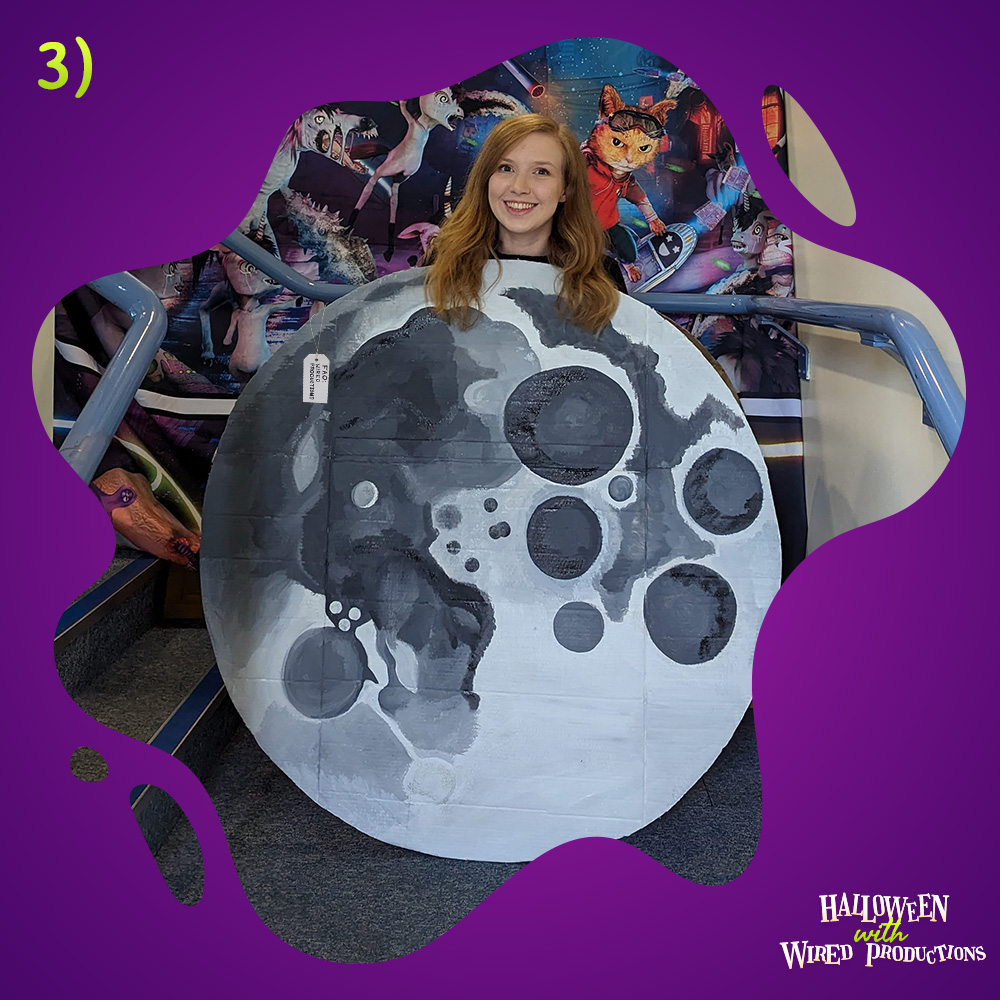 We saw new faces sign up to support Press Pause, and connect with their communities, and we saw long-time supporters lead the charge through their communities as well. Ultimately, this fundraiser has been a wonderful example of how community can unite and support not only mental health causes in the games industry, but each other.
Could VR be used to support astronaut mental health?
A new partnership between HTC VIVE, Nord-Space ApS and XRHealth has launched, looking at whether modified VR headsets with built-in wellbeing programmes will boost astronaut mental health.
Andreas Mogensen,  a Danish astronaut and Commander of Expedition 70, will be among the first to test the VIVE Focus 3 in space as a support system on longer space missions, as explained in this blog post.
On November 7th, the VIVE will be onboard a cargo resupply mission to the International Space Station (ISS), and will be officially the first VR headset for mental health usage on the ISS.
The concept of being up in space can seem magical for many, it's easy to forget the often harsh reality that astronauts face. We're excited to see how this initiative will run, and what it could mean for future gaming technology being used to support astronaut mental health.
One of the impressive parts of this initiative is how the VIVE team has repurposed the VIVE Focus 3 to be optimised for space. Microgravity, or weightlessness, refers to conditions where the effects of gravity are very small. When combined with spacecraft mechanics and having to wear a VR headset, most astronauts were fighting motion sickness and an inability to use the headset entirely.
"Inspired by a range of solutions in our industry-leading Location Based Software Suite (LBSS), our team developed a special tracking methodology which utilized a controller as an anchor point. You can actually find this solution in arcades and businesses all over the world. On Earth we call it SimulatorVR mode, and it's used for VR roller coasters and immersive motion simulators as well as comprehensive flight training and advanced driving simulations."
VR Mental Health Content
So, what is going to be on the headset that supports astronauts? According to VIVE's blogpost, the VR therapy will include 360 degree videos derived from practices in meditation and relaxation to help with various mental health aspects. These include:
Sunset on the Hill 
Mountain Path in Europe
Swimming with Dolphins
Western Sea
Wetlands
VR on Earth
Whilst this will be the VIVE Focus 3's first expedition to space, the ESA and NASA are already using the VIVE technology in astronaut training for simulated emergencies, rescue missions and more.
We're excited to see how video games and technology can aid in mental health support, both on Earth and in space!
Whether you knew it was coming or not, a redundancy can feel really difficult and lead to all kinds of questions and uncertainty. We know that this feeling can challenge everyone's mental wellbeing and, in some cases, worsen existing conditions.
We've worked with Fresh Seed to offer some support and resources for those affected by layoffs and redundancy.
Knowing your rights
Redundancy can be a daunting and uncertain phase in your career, but having a solid grasp of your rights can empower you to confidently navigate this challenging journey. Wherever you are in the world, you are likely entitled to certain protections. By embracing your rights, you can make well-informed decisions, safeguard your financial stability, and embark on new opportunities with greater peace of mind during this trying period. 
Networks/friendships and connections
Just because you've lost your job doesn't mean your networks in work and the wider games industry have gone. They are really powerful in supporting you and reminding you that your value in the industry is valid. Try not to disconnect yourself from everyone around you and try to remember that these people really care about you and are rooting for you to get your next role. Your network and friends can also be leant on for support during a tough time, to help lift you up and remind you of your worth when everything seems impossibly difficult.
Managing your finances
Naturally, concerns about your financial situation may arise following redundancy. If you're able to take proactive steps to handle your finances in this period, it will contribute to maintaining financial security and providing peace of mind. There are many online tools to support with budgeting, or places you can go to for advice around renegotiating debts. Try to seek out local experts or government resources to make informed decisions.
LinkedIn and your CV
While you're looking for your next role, take the time to polish your CV and update your LinkedIn profile. Remember that doing it now, whilst your work is fresh and feels relevant is better than leaving it until you're interviewing. A recruiter wants to see what you have achieved, and how you've contributed to the team so now's the opportunity to put yourself in a good light. If you struggle, ask a friend to help you.
Looking after yourself
At times of shock and disbelief it's tempting to hide away and cut off all the things that give you purpose.  But that may not be helpful to your longer-term wellbeing. Try to maintain structure and remember to allow yourself time off from worrying, looking for work, etc., to allow time for self-care. Be kind to yourself as you adapt to change, and recognise that it's okay to find it hard.
Try to connect with friends, family, and support groups who can offer emotional support. Redundancy can be really overwhelming and cause you to go through a whole range of emotions such as shock, anger, anxiety, and despair. If you feel you need to talk to someone else, take a look at safeinourworld.org/find-help where you'll be able to locate local support sites and helplines wherever you are in the world. Alternatively, consider speaking to a mental health professional or counsellor who can provide guidance and support. 
Try to avoid rabbit holes of doom or conspiracies about what has happened. Instead, try to focus on constructive things to reduce stress and boost your mental wellbeing such as journalling, exercise, hobbies, sleeping and eating well, and connecting with others.
Resources
LinkedIn Game Industry Lay Off Peer Support Group
Redundancy Financial Support – Money Saving Expert
Worldwide mental health resources
Ubisoft & Safe In Our World Partner to Combat In-Game Toxicity
We've teamed up with global video game publisher Ubisoft to address disruptive and toxic behaviour in-game and provide tools to help players navigate it.
As part of this partnership, Safe In Our World and Ubisoft have co-developed the Good Game Playbook – a guide designed to provide players with knowledge and support with regards to experiencing in-game toxicity.
From November 2nd, the playbook will be provided to both players reporting disruptive behaviour as well as those being reported themselves. We aim to not only offer support to those affected by other's behaviour, but also bring self-awareness to the players who may be causing harm. With this in mind, the guide encompasses information including self-care practices, understanding gameplay triggers, and understanding the weight of toxic behaviour in the wider community.
We hope that seeing companies like Ubisoft putting in place measures to combat toxicity in their games will encourage others to follow suit, creating a path for games developers to recognise their social responsibility and dedication to supporting their player base.
The playbook also points to additional resources on the Safe In Our World website, specifically looking at topics including stress, anger and additional helplines.
The Good Game Playbook will be automatically sent to players reporting or reported for disruptive behaviour in Rainbow Six Siege and For Honor. The Playbook is currently available in English and French, with the intention to translate to additional languages in the future.
---
Read the Good Game Playbook [EN] / Read the Good Game Playbook [FR]
Safe In Our World is fundraising this October 27-31st to celebrate 'Press Pause' 2023, their annual fundraiser, in partnership with Elgato.
Press Pause is about the idea of pressing pause on life by pressing play in-game. 
Escapism is a huge part in why so many gamers use games as an outlet when they need a break from reality. At Safe In Our World, we embrace using games to escape when we need to, as they provide a healthy outlet to process difficult emotions, even if it's subconscious!
Our wonderful sponsor, Elgato, will be supporting by match funding up to the value of £10,000! They will also be providing the first fundraisers to reach £500 with a product of their choice.
Get Involved

Why get involved?
Since our launch in 2019, we have:
Enrolled 150+ Level Up Partners (responsible for over 50,000 employees) and connected them with resources and training to better support their teams.
Signposted life saving resources to ¼ million website visitors
£140k of free training has been offered to the industry so far.
Provided free mental health training for 350+ Community Managers from 26 countries & 175 people in under-represented groups
Created an inclusive and supportive Discord community to openly discuss mental health and games with 1.1k members.
Launched a mental health video games themed journal called Sidekick

Consulted with several game devs on representing mental health in a non-stigmatising way,

creating content warnings and signposting in-game
Rewards
We believe in the importance of giving back to our community, and have created a list of fantastic rewards for both fundraisers and donors to enjoy at various milestones.
Fundraiser Rewards
£500 raised – (First 20 Fundraisers) One Elgato Product from the following list: Facecam, Wave:3, Stream Deck Mk2 or HD60 X 
£1000 raised – Limited edition Press Pause themed Game Boy with modded screen
£2000 raised – Limited edition Press Pause themed Game Boy with modded screen, customisation and rechargeable battery
£3000 raised – Completely bespoke custom Game Boy with modded screen, rechargeable battery
We will be providing our fundraisers with awesome rewards such as game keys and merch, to allow everyone to join in and enjoy Press Pause 2023. 
To learn more about Press Pause, or to enquire donating prizes or corporate donations please reach out to Rosie. We look forward to hearing from you!
Ambassador Class of 2024 Applications Open
NOW CLOSED
Are you passionate about mental health, video games, and charity? In celebration of our 4th anniversary, we have opened our applications to become a Safe In Our World Ambassador in the Class of 2024.
What is the Ambassador Program?
Ambassadors will be representatives of Safe In Our World, championing our message across various platforms, at events, and within the work that they do. This is an annual program, where we select a class of 25 people to represent Safe In Our World.
Expectations of an Ambassador
Sign a Code of Conduct and uphold our values
Receive a monthly newsletter with updates about our activity, initiatives and training opportunities
Take part in at least one key activity each year. For example: streaming, fundraising, participating in panels, contributing to the website etc.
What will Ambassadors receive?
An exclusive Ambassador Class of 2024 Merch Gift
A profile on the Ambassadors section of our Website
Exclusive access to the Ambassador Section on our Discord
Priority access to internal news and initiatives
Opportunities to feature within content
Opportunities to represent the charity at physical and virtual events
Opportunities to attend exclusive mental health training
Who can apply?
Anyone who is passionate about our mission can apply, regardless of where they work. This is open to everyone, and we highly encourage people of marginalized backgrounds to apply.
How do I apply?
Applications will close at midnight UK time on October 31st 2023, so please make sure to get your application in before that deadline!
These applications will be reviewed by committee, please assume anonymity and provide as much information as possible.
When will I find out if I've been successful in my application?
All applicants (whether successful or not) will be contacted in November 2023.
We're so excited to meet our Class of 2024 and work towards a safer space for all within the games industry.
World Mental Health Day 2023
On World Mental Health Day 2023, Safe In Our World celebrates its 4th anniversary alongside a list of achievements and exciting announcements.
We're celebrating with a series of announcements, including welcoming new Trustees, Level Up Partners and opening up our Ambassador Applications.
Ambassador Applications are Open!
Apply now to become an Ambassador in the Class of 2024. Check out more information here, and apply here.
Callum Underwood, Dr Emma Reay and Stacey Fowler join the Trustee Board, bringing with them a wealth of experience and knowledge to support the charity as it expands.
Callum Underwood – Trustee
Callum Underwood is the co-founder of IndieBI, a platform that allows developers to automatically track and benchmark all of their games sales. Callum recently left Robot Teddy, where he was CEO and founder, after being acquired by Thunderful in 2021, and has previously worked for Kowloon Nights, Raw Fury, and Oculus as a scout. He once managed business for Among Us, Gang Beasts, and SUPERHOT. He is committed to supporting independent developers around the world, promoting excellence in games, and talking openly about mental health.
Stacey Fowler – Trustee
Stacey Fowler is the Senior Director of Communications and Commercial at Media Molecule. Stacey is an IP lawyer with 25 years legal and business affairs experience in the games industry. Stacey worked for over 15 years at Sony Interactive Entertainment/PlayStation leading a team of lawyers supporting PlayStation Studios in Europe. In 2022, she joined Media Molecule's leadership team focussing on communications and commercial strategies. Stacey is also a Board Member of Into Games, a non-profit creating accessible paths into the games industry.
Dr Emma Reay – Trustee
Dr. Emma Reay is a Senior Lecturer in Emerging Media at the University of Southampton. Her research is located at the intersection of Games Studies, Games Design, and Childhood Studies. Emma is interested in the social, ethical, and political dimensions of games – particularly in the possibility spaces created through radical play in virtual worlds. She is an advocate for lifelong play, cooperative games, and joy as resistance.
Welcoming New Level Up Partners
We're delighted to welcome JAGEX, The Multiplayer Group, Hardball and Fribbly Games to the Level Up program, which now has over 150 partners currently signed up.
How Controller Attachments are Changing Gaming
Thumb Soldiers are a company making inclusive controller attachments to allow all players to better enjoy gaming.
We chatted with David Chapman, Founder of Thumb Soldiers, about the work that they're doing and how it's having a positive impact on gamers of all backgrounds.
What does Thumb Soldiers do?
"We create attachments to put on controllers," David explains, "I had an epiphany a few years ago on how the system would work with it being a really easy attachment with no assembly, and suddenly, it was like 'we can take this so much further'".
"When I was at university, I created a snowboard for paraplegics, and that was one of the projects I bestowed upon myself to achieve. So when I came up with the concept of Thumb Soldiers, it hit me straight away – we could open this up for so many people to play in so many ways. We can provide different solutions to different people's needs. It can be to aid children with small hands, or people in hospital with an IV drip in their hand. It can allow for people to play, when they couldn't previously."
David showed me the key attachment for the controllers, which they call the 'knuckle'. It was a plastic hinged clip which fits around the joystick, and then enables further attachments to slot into it. It took about 10 seconds for the clip to be attached.
They have a number of different attachments that can be fit for different purposes:
Sticks: focusing on improving accessibility to those with limited dexterity, arthritis, small hands or limited movement from an IV in your vein, for example.
Navigation: focusing on precision and fluid movement, allowing for a more versatile play style, including the more obvious flight sims and FPS.
Racer: focusing on control with a slight of touch with the wheel/pedal duo, allowing for additional grip and smooth movement. They've also had feedback on the adaptive uses of the wheel (as players are less likely to lose grip on the wheel due to the encompassing nature of the shape.
Rest: Allowing options between the wrist rest and the shroom (a larger surface area on the joystick), they alleviate uncomfortable positions and provide more ways to play.
Rock n Roller: A raised edge and grippy curve provide two ways to control the joystick in a more versatile experience.
Shrooms: Whether a larger surface area is preferred or required to assist with disabilities including Cerebral Palsy, Multiple Sclerosis, Dyspraxia or Arthritis, to simply providing options for ease of play or greater control. Shrooms are improving performance, comfort and ability in so many ways and even in ways we're still learning.
Step Up: Providing agility and precision with a level transition on the joysticks, again allowing for more general adapted play as well as FPS benefits for players looking for quick precision, for example.
One thing I liked about these attachments is that it felt like a good in-between option for players who may not require / be able to afford a fully adaptive controller, as these are more financially accessible to trial.
I asked David about the feedback he'd received from players on these controller attachments when gaming, and he explained how it's about feeling included. "Being able to play for that little bit longer, where they otherwise would have had to drop out and their friends would carry on; that's no longer the case. They can continue and keep being a part of the team. Those things matter". 
It's also about enjoyment, as David mentioned their friends at Everyone Can had seen instant improvement and enjoyment from their members when putting the various attachments to the test.
Learn more about Thumb Soldiers here.
The Dev Traffic Light System
The 'Dev Traffic Light System': A mental health tool for the games industry, created by Matthew Stevens
This month, we spoke with Matthew Stevens about a resource he has created for the games industry: the 'Dev Traffic Light System' (or DTLS), which is designed to support games industry professionals in having more frequent and honest discussions about mental health.
What is the purpose of the DTLS? How did you come up with the idea?
"The goal is to help foster an environment where people feel comfortable sharing their well-being with their team, and looking at how this might affect their output on that day, while not needing to share specifics.
"I originally came up with the system in my final year of University, when I was responsible for leading a pretty large team. A few teammates struggled to express things that were affecting their work, but felt bad for not communicating it with their peers. So, I created the first draft to help them start sharing, and things evolved from there. I ended up sharing the resource with other teams at the university who also found it very useful, so since then I've been working on improving and formalising the system."
What experience do you have in the games industry?
I'd say my start in the industry came after taking part in Tranzfuser in 2021 with Meteorite Media as the team lead and level designer. Trying to balance running an indie company while doing a Masters was certainly an interesting challenge (aka really stressful haha), but I learned a lot about myself and how I work, which I've taken with me into the games scene.
I've been in the industry for about 2 years or so – currently I'm working at BetaJester as their in-house producer and one of the team's mental health first aiders. It's a really fun company to work for and they really care about supporting the team in any way they can. 
How does the DTLS work?
"The Dev Traffic Light System uses colours to create awareness of team members' mental load and emotional well-being, whether during in-person meetings or online communication. The tool allows managers to understand where their team members are in terms of their well-being, and it suggests supporting action that should be taken according to the team member's needs.
"The tool was developed to support neurodivergent individuals, but I've made adjustments over time with accessibility in mind (for example, using shapes as well as colours).
"It's important to note that the DTLS should be used alongside existing policies in your team for it to be most effective. Ultimately, creating a safe, healthy work environment will lead to a strong studio culture where people feel comfortable being open with their team."
What feedback have you received so far?
"A lot of the feedback for the system has been positive! From talking to people who use the DTLS, it helps them figure out in general how they are feeling and they feel a lot less pressure to give a single colour (with the choice to go into detail) rather than explaining why they have had a bad day and if it will affect work. Generally, if someone is feeling in between two colours, I always suggest rounding down as usually people identify more with the lower colour. The colour 'lime' was added because people felt that there was too much of a gap between the 'yellow' and 'green' categories.
"Another good bit of feedback I got was from a chat with Daniel Rosga about how I could bring it into sprint reviews to judge a project's 'health'. It could be adapted to see how the previous sprint affected the team: if you're getting a lot of yellows and lower, it means you probably need to adjust your planning and offer more support to team members.
"I'm really proud of how the system has been developing, which is why I wanted to make it public! I'm currently working on a project called 'The Indie Mental Health Toolkit' which will suggest some systems or ideas that can be used alongside the DTLS."I'm always open to more feedback: if you have any thoughts on how to improve the resource (or can think of processes that would supplement it), please don't hesitate to contact me via Linkedln or Twitter/X!
"Thank you to Paula Panizzi for supporting with the graphics, and Erica Coaty for helping me write up the explanation piece too!"
What advice do you have for studios who want to better support the well-being of their teams?
"Factor well-being into your production plans and schedules. Talk to the team: see what support could be useful to them. There are a lot of both paid and free options out there for companies to look into and start building support structures.
"I'd definitely recommend getting someone on a team Mental Health First Aid trained if you can, and set up bi-weekly or monthly 1-on-1s to check in with people individually."
Safe In Our World's #LevelUpMentalHealth programme also offers heaps of free resources and training for games industry employers looking to implement better well-being support in their workplaces. Learn more here. 
Book your free place on our Self Advocacy Speaking Training now!
A new 3-part training course on Self Advocacy Speaking developed based on feedback from the games industry, designed to address real-life issues.
Our aim is to support under-represented developers and improve communication methods to promote better well-being and mental health.
Multiple dates available.
IMPORTANT INFO:
Once all three sessions have been completed, you will receive a certificate of attendance.
At the end of the course you will receive a handbook that you can use to remind yourself of what you've learned, and continue putting self-advocacy speaking into practice.
Sessions are recorded so we can support with folks who have to unexpectedly miss a session / etc.
"Don't take it personally" is a phrase many of us have come across in our lives and it often frustrates and upsets us when we hear it. It is synonymous with our lives in the workplace where we sometimes feel our identities, emotions and needs have to take a backseat.
What if there was another way? While the phrase may be problematic, there is a grain of truth hidden inside it, one which we'd like to share with you and show you how it can be used to better connect with people and safeguard fundamental parts of your identity.
Want to learn more?
We hosted a free info session on Self Advocacy Speaking Training for you to get an idea of what this training will look like, which you can watch and listen to here.
Obsessive Completionist Disorder: The Shaky Connection between OCD and Achievement
With the advent of achievements becoming a mainstay in gaming, it is easy to associate compulsive behaviour with 'trophy hunters' and 'completionists' who desire to 100% a game. The self-satisfaction that many people feel from getting an achievement (gaming-related or otherwise) is arguably the main reward and justification for all the effort and time used.
However, chasing achievements in games as a way to alleviate stress and anxiety can unknowingly become a hindrance to both players and the people around them due to its tenable connection with Obsessive Compulsive Disorder (OCD). 
A concise definition taken from the Diagnostic and Statistical Manual of Mental Disorders (Fifth Edition) defines OCD as "Recurrent and persistent thoughts… experienced as intrusive, unwanted… that cause marked anxiety or distress." When an individual experiences these particular urges, they feel compelled to act in a certain way so as to suppress them. This manifests in compulsive behaviour, such as repeating the same actions or mental acts to reduce distress, and often lasts for a protracted amount of time throughout the day. Compulsive repeated behaviour manifests itself in different ways once anxiety triggers manifest, with common (but not mandatory) examples including: washing hands, arranging things in specific orders, checking things frequently (e.g: lights, doors, cooking equipment), and so forth.



Unfortunately, depictions of mental health in fictional media are often simplified into positive and negative quirks for the purposes of drama or characterisation, and one could argue that OCD is one of the most frequently misrepresented. Inaccurate portrayals can skew an audiences' perspective of what living with OCD (along with other cognitive conditions) really entails, reducing a complex series of anxiety-induced behaviours to banal tropes like "neatness" and "counting". As someone who acutely suffers from OCD, I can personally attest to the drawbacks that a compulsive mindset can cause in daily factors like work, social life, and especially gaming. 
Attempting to locate all secrets and unlockables in a game is not a damaging thing by itself, as many games of varying genres actively use their trophy/achievement lists to entice players. Open world/sandbox games are particularly prominent at promoting completionism due to the wide array of crafting and collectible mechanics, especially in recent years. The iconic example of Minecraft boasts an ever-increasing achievement list that serves as an antepiece to demonstrate more of the game's features through natural progression. People have different playstyles, but connections to certain genres can cause you to obsess over specifically gaining achievements over the enjoyable experience of the game itself. By contrast, starting games with very demanding achievements like Crypt of the Necrodancer or Super Meat Boy could possibly aggravate these symptoms even further as the compulsion for achievement leads to non-stop gaming sessions that disrupt daily life and even sleep patterns. Gamers planning to hunt down all achievements would benefit from researching achievement lists before starting a new game to prevent this happening, and instead get the opportunity to develop a way to gain enjoyment through 'organic' gameplay inside reasonable time frames and difficulty parameters.


Compare and contrast narrative-driven sandboxes (Red Dead Redemption 2, Skyrim, Grand Theft Auto) or choose-your-own-adventure titles by Supermassive Games and Telltale Games. These examples focus on tightly written stories, but the player's optional interactions with the wider world adds a greater depth and understanding compared to a playthrough that only consists of one main story. Therefore, the presence of achievements can allow for a more immersive experience to keep players coming back for more to achieve 100% completion. 
Playing games can be a way to relax and de-stress for many people, and can also combat OCD symptoms. However, the allure of achievements can become one facet of compulsive behaviour that rapidly monopolises the thought processes of people with OCD. Similar to an addiction where the 'high' is constantly being chased, only to grow weaker and weaker over time as more achievements are gained, the enjoyment can soon become routine requiring bigger 'hits' and more time/effort committed to the pursuit of virtual trinkets. It isn't hard to find a game with a laughably easy (if monotonous) achievement list where continuous button pressing is all that's required to get all achievements in rapid succession for arguably little effort compared to games that demand skill, patience, strategy, and so forth. 'Joke games'  such as My Name Is Mayo deliberately alter the meaning of achievements through simple actions. When these games are targeted purely for the value of watching achievement numbers go up, obsessive compulsive players are susceptible to the time sink that feels rewarding in the short term but has hidden dangers.


While some aspects of mental conditioning such as medication and/or Cognitive Behavioural Therapy can help OCD patients cope with the disorder, completionism can rapidly assume control over routines in daily life and lead to more damage in the long term. Speaking from experience, my attempts to seek out 100% of trophies/achievements in games led to many sleepless nights, neglecting social interactions and household cleanliness because my priority was getting trophies and achievements first. This was particularly true when stumbling upon difficult games due to how much my mind would be focused on the objectives even while at work, or in social scenarios meant to distract from gaming. At the time this behaviour was unchecked as OCD, and because I had been trophy grinding for almost a decade I didn't notice the gradual deterioration from casual entertainment to single-minded obsession. The self-satisfied sensation was disappointingly short, and never outweighed the time I could have spent improving myself. One technique I've since embraced is 'retro' gaming as a way to explore genres and titles I've never played before. Since they aren't tied to achievement lists, my passion for gaming is gradually returning, and it also allows me to keep games in the proper place without overloading my previous compulsive mindset.
Thankfully, solutions do exist. Like most things associated with breaking negative habits associated with mental health, identifying the specific things holding us back is half the battle. For others with OCD, their experiences may be similar or wildly different, but finding the connection(s) that trigger certain compulsions that have negative effects makes for a good starting point. If gaming is indeed a particular vice for you, then it's encouraged to develop a pattern that works for you rather than deciding to abandon all games right away by instead setting realistic goals that you can stick to. This could involve shorter allocated time periods for gaming to keep track of progress, and gradually learn to stop playing even when achievements have not been gained despite progress. Seeking out subversive games where the achievement list is very meta and spoils nothing or even non-existent encourages players to experiment with finding secrets and outcomes for themselves rather than mindlessly ticking off a checklist in lieu of entertainment.


It's always possible to have too much of a good thing, and when the joy of self-satisfaction becomes routine it can lead to a vicious cycle of compulsive behaviour. Having been locked in this mindset for so long, I personally no longer get a buzz or 'high' from actually getting achievements. Individuals who find themselves resonating with some of the points in this article would benefit from looking at their own attitude to how they play games and its connection to their own mental state. Completing games and unlocking achievements is designed to be engaging, and by keeping this as the strongest primary connection to one's mental health, playing games will remain less of a daily obsession and hopefully instead compel players of all kinds to pursue a natural and uplifting experience.
---
Ruby Modica is an independent content creator, editor and writer.
She loves sharing insight into video games and discovering new things, with a desire to work in the media/gaming industry full time. Most days she is busy at her computer working on her next big project.
Skills utilised:
News, Stories
ADHD & Gaming: How Neurodiverse Gamers are Connecting & Creating Positive Spaces
Before discovering I had ADHD, I thought I was alone in my quirks and how I socialise. But my experiences were more universal than I realised.
Gaming has evolved to be more than an experience shared alone. In the world of media, video games are unique in how they foster a sense of community and connection. They have been bringing us together for decades both in and outside of the game, and giving neurodiverse minorities a sense of belonging.
Since my ADHD diagnosis in my late twenties, I have come across so many other ADHDers with similar experiences to my own, many of those through the gaming sphere both in fan communities and the industry.
I wanted to learn more of others' experiences and with their permission, share these along with my own to give others a wider understanding of how inclusive groups and communities leave an impact on us and to help other neurodivergent gamers feel seen and welcome. I talked to a few different neurodivergent voices inside the games industry and in gaming communities, to hear about different experiences.
My Personal ADHD Gaming Experience
Video games have been a part of my life for as long as I can remember. My earliest memories of playing games as a child are from playing Sonic R on the Saturn in my brothers' room, or playing Theme Park for the SNES in the evenings after dinner. I loved games that were quick to get through.
However, as I got older I gravitated towards more narrative driven games like Shenmue and Kingdom Hearts, as in-depth characters and stories became a huge aspect that I loved focusing on and getting lost in.
My early teens were when I first recognised the impact that ADHD had on my life, although I was unaware of the name of it at the time. My experience of ADHD centres around my struggle to focus, regulating my emotions and managing hyperactivity, but a key feature of my neurotype is hyperfixation.
Hyperfixation is when we get intensely immersed in an interest, and focus a lot on that interest which could be a game or specific aspect within said game. We will spend a lot of time thinking or engaging with it and often spend a lot of our energy on it more than other things. Hyperfixation can definitely be a bother when you need to focus on general tasks or work, it can lead to us neglect basic needs if left to fester for long enough.
For me, hyperfixation is a big part of my ADHD and life. I'd hyperfixate on my favourite games and characters, it feels like it has always been present even if I didn't always have a name for it. Wanting to talk for hours about why a certain game narrative is the best one ever – even if no one else wanted to hear it! Thinking about my favourite games and wanting to dissect them with my friends and family for an absurd amount of time made me inexplicably happy. Even so, I felt isolated and lonely because no one else around me seemed to experience this same kind of passion.
Unmasking in my Community
Growing up I was constantly masking my hyperfixations as to not seem "weird" or "obsessed" to the people around me, especially friends. I even hid a lot of my "nerdy" interests from friends at the time for fear they would no longer like me. But now, I view my hyperfixation trait as also a positive as well as a sometimes hindrance. When managed it helps boost my creativity in huge ways, and my favourite stories can motivate me to work harder or find the confidence to finally reach goals.
This is where becoming involved in fandom communities helped me feel a little more "normal". Somewhere I could meet others that had the same hyperfixations and intense passion for games, stories, characters as I did which gave me a sense of comfort (even well before knowing I had ADHD).
When I started writing this I wanted to hear about how other gamers with ADHD have found safe spaces/communities within gaming where they can be themselves and ways in which they have also helped them find inclusivity to see if some of us have similar experiences, and a few people were happy to share those personal experiences and comfortable for me to include here.
The Covid-19 Pandemic
During lockdown, many struggled to find interaction through their usual means. There was also a big increase in loneliness due to the loss of socialising opportunities. One person noted that "it gives us a relatively safe space to connect and participate in something we love together which has been extra challenging to find since 2020" when talking about more active online gaming communities.
Those that regularly engaged in digital communities found comfort in their regular spaces or were able to find new ones as a welcome distraction from the stress of what was happening in the world. Online spaces are often one where neurodiverse people feel comfortable engaging due to the lack of need for instant response and navigation of social cues.
Social Anxiety and Sensory Overload
Another commented that "in-person events can be overwhelming between the sensory overload and navigating social nuances". Neurodivergent people frequently struggle with social gatherings. Our social batteries can run out a lot quicker as we often mask – where you hide your neurodivergent traits and camouflage with the neuromajority. We often need to process information faster than we are able, as well as deal with a multitude of distractions, and potential sensory overload.
Having online games communities and events can offer interaction in a way that is comfortable and doesn't put neurodivergent people under as much pressure. It offers gamers a place in which we can find others who share similar interests. and favourite games, but also those with similar experiences with ADHD. Overall it gives us more time to process, and we're less likely to misunderstand social cues. There are potentially less distractions, and we are able to remove ourselves from the space instantly if we get overwhelmed.
Rejection Sensitive Dysphoria 
But what happens when we don't have a space that is made accessible and comfortable for us? Not only will events and communities miss out on amazingly creative neurodivergent people, but it can have a huge effect on ADHD folk that experience RSD (Rejection Sensitive Dysphoria).
Those with ADHD tend to feel things a lot more intensely than most people which can have an impact both physically and mentally. RSD can cause intense deep emotional and even physical pain caused by criticism or rejection. This can even include missing out on things, such as an event you were really excited about, or when you are suddenly unable to attend if you are sick or too anxious. But it can hit incredibly hard when we try to connect with others over a mutual interest, but are left out or judged by others.
It can cause us anxiety, to overthink, and tear ourselves down for not being able to interact in ways that others find easy. Creating spaces and especially online versions of events can help to make us feel included and acknowledged, and it gives us visibility to others.
How do ADHD Gamers Thrive in Games Communities?
When speaking about the benefits of games communities with other neurodivergent people another comment shared was "what I love most about gaming communities is the acceptance and understanding that flourishes with them. ADHD traits like hyperfocus and intense interests are not only embraced but celebrated". Something that I myself have found to be true!
I've met many ADHD gamers through fan communities online and have interacted with them over our favourite games in a way that is true to me, without masking the hyperfocus or huge love I have for the media! Others will react with the same level of passion and interest which helps me feel comfortable and in safe company. From this, I have made some amazing friendships and great memories from both communities or in the games themselves.
Becoming More Accessible
The creation of online spaces for neurodivergent gamers has shown to leave us with positive inclusive experiences where we can be ourselves, but we don't want online to be the only place where these exist.
We don't always want to be constrained to our homes and a screen in order to meet other like-minded gamers. So what else can be done to make an ADHD-friendly space?
More events focused solely on neurodivergent gamers is always a good place to start. Creating a place where you know straight off the bat you've landed somewhere you can feel acknowledged and safe is a great way to have us feel seen and limit potential anxieties.
When it comes to in-person events, especially events in large venues or that have a high attendance, creating dedicated areas or rooms that allow neurodivergent people to take a break and regulate can make the event far more accessible. This will allow more neurodivergent people to attend and participate – maybe even meet more people like themselves!
All Communities Great and Small
But to any that find stepping into an established unknown space might be too much for them, setting up your own little game community whether it's an ADHDer-focused guild in an MMO, a Discord server where you connect over your favourite game character, or organising a game tournament for neurominorities (either on or offline), can all be amazing ways to create your own little safe community.
Ultimately, feeling included and most of all wanted in the communities we take part in, can have a long-lasting worthwhile effect on us – especially for our mental health! It leads us to form friendships we may never have found otherwise and offers us amazing opportunities that may have been inaccessible before!
But most of all? We simply get to enjoy our love of gaming in a way that is true to ourselves – without any fear!
---
Written by Kelly Sellers (she/they)
Skills utilised:
News, Stories
Finding Balance in Gaming with OCD
This month, we're exploring OCD (obsessive compulsive disorder) and how people with lived experience of OCD connect with gaming.
We reached out to our community to educate our readers on what OCD really is, how it affects people, and what we can do to be better allies.
Misconceptions around OCD
OCD is often misconceived within the general population, with many referring to OCD as simply being tidy or organised. We want to dispel misinformation around the disorder to allow for a greater understanding and empathy surrounding OCD.
So, what exactly is OCD? Victoria Kennedy explains their experiences – "my OCD manifests itself differently to how it is often portrayed in the media (Jack Nicholson's Melvin Udall in As Good As It Gets comes to mind). For me, it is a very internal thing, and if you were chatting to me while I was going through my OCD process, you would probably have no idea something else was going on beneath the surface. My obsessions are thoughts that become incredibly real to me. My compulsions are then things that I do to try and negate those thoughts. Essentially, I will become obsessed with the idea that something bad is going to happen, and it will induce panic and anxiety."
This misconception is affected by modern media portrayals, which Mario Mergola explains. "It is undoubtedly the media depiction of requiring certain things in certain order — think of the boss in Disney's Incredibles lining up his pencils on his desk calendar. OCD isn't about seeking perfection with clean edges and nicely fitting pieces of a puzzle. The assumption for the viewer is that the boss wants his pencils aligned in a specific way. The OCD element behind this would really be the character's difficulty to focus properly or feel confident if his compulsion is not met, and a more accurate outcome would have probably been him continuing to fidget with the pencil even when it is lined up, because it wouldn't feel right to him."
Gabe Gurwin found the same sentiment, explaining; "it's not a fun quirk in someone's personality. If you love having stuff organized or you keep your house tidy, that doesn't mean you have OCD: it means you like having stuff organized." Cait Martinez from Big Blue Sky Games adds "there's so much more to it. The rituals, the anxiety, the feeling of no control, the intrusive thoughts – this is the reality and "ugliness" of having OCD, it's not a joke!
Lottie from Modern Wolf agrees, mentioning that "OCD is living with a voice telling you to act out compulsions to avoid a horrible situation, not having a tidy house/setup," Lottie adds, "we act out compulsions to keep ourselves and our loved ones safe and some compulsions can be really upsetting."
Lessons Shared
A common theme that I've noticed in many responses from our community on OCD is the feeling of isolation or loneliness in the diagnosis; the lack of understanding from the outside world can feel overwhelmingly lonely at times, and having a support network or sharing your experiences can help others in their journey. As part of this feature, I asked our contributors what they would tell their younger self about managing OCD.
Gabe opens up about medication, explaining that "the very first thing I would have told myself was the medicine that finally had an effect – in my case it was Clomipramine, but getting that help from a healthcare professional who is knowledgeable on the topic is extremely important". 
"There are so many things I wish I could tell little Cait, but I think the most important one would be to tell myself that therapy and medication are not to be feared, they work! I'd also just want to comfort my younger self and say that I am NOT my intrusive thoughts," Cait Martinez shares, "there are so many people who are going through the same thing that I am right now."
Ysobel shared their learnings as well, explaining that "the compulsions I feel I must do to make myself feel safe are actually just fear and anxiety trying to control me. Following through on those compulsions just reinforces that I must go through those particular actions to be safe, otherwise something awful could happen. This isn't true and once you start to realise when it's just your OCD whispering in your ear to do something, it becomes a little bit more manageable."
"One thing I'd say is that you aren't your OCD", Luke Hinton says, "It's much easier said than done, but try not to let obsessive worries or thoughts eat away at you – you aren't your OCD, and refusing to give compulsions the power to dominate your thoughts or actions is the first step to minimising their impact."
OCD Representation in Games
When I started researching the occurrence of OCD representation in games, I found virtually nothing on characters with OCD or gameplay demonstrating what OCD feels like. There were mixed feelings as to whether game-makers should be doing more to represent obsessive-compulsive disorder, and a responsibility of those game-makers to adequately content warn their audience to avoid triggering distressing thoughts in players.
Chad Bouton puts this well, "it's more about the player – there are always players who want to escape from themselves in-game, and don't want to see themselves in characters, but there can be positive self-talk as part of seeing yourself as well."
I don't really think video games have done much to highlight OCD in characters throughout the years, but to be perfectly honest, I don't want them to. Any reminder of OCD itself could start triggering those obsessive thoughts to return, and OCD-related anxiety is so personal that I don't believe seeing it in someone else in a video game can necessarily be helpful. – Gabe
Gabe continues to explain their relationship with games and OCD; "when my OCD was at its peak, I almost entirely stopped playing video games. They no longer brought me joy, they didn't act as an escape for whatever problems I was dealing with, and they only served to give me more anxiety. Discovering as my symptoms were treated that I finally enjoyed playing video games again and sought they out for fun was when I realized I was finally in a better place."
Caitlan discusses how the Dragon Age series left its mark on her, with a big part of that being an outlet for her OCD. "I believe I gravitated towards video games, and RPGs in particular, to help with my almost unattainable need for control that comes from my OCD as well as previous trauma, and Dragon Age gives me that control by allowing me to completely influence how my story happens throughout the games. I get to choose who I help, who I recruit, what I believe in, what happens to the others around me, and more. It's feels freeing to have this experience because it's almost like you're creating your own story, especially when there are multiple outcomes for your decisions. When I felt like I couldn't do that in real life, I knew that I could escape to Dragon Age and other games to control my life in those worlds."
Ysobel talks about Undertale and it's ties to OCD for them. "Growing up my OCD told me that everything was dangerous, no one could be trusted and I had to always be prepared for when these awful things happened. I soon saw most people as monsters just waiting to hurt me and decided I had to be cold and sometimes aggressive towards them to keep myself safe. When I first played Undertale back at university, I remember feeling connected to this small child who was alone in the dark surrounded by monsters. But then instead of the usual game mechanics of 'Ah a monster! Kill it before it hurts you!' you could befriend them.
A big part that stuck with me is the recurring theme of determination. Despite how hard it is sometimes to keep doing the right thing and not give into fear, your determination keeps you going through the dark. It's very similar with OCD. You need to stay determined to not let it try and take over you, some days will be harder than others, but if you can stay strong you can find the good in everything."
"I always enjoy it when a game gives you a choice in how you direct the story, so mechanics wise, games with narrative trees. It makes me feel more invested in a character's journey, and that connection often plays into facets of my own self. The Life is Strange series comes to mind here." Victoria shares, "In the first game, seeing Max trying to fix things was very relatable. I really felt her desire to make things right. And, in True Colors, I felt a really strong connection to Alex as she tried to negotiate life after loss and hardship. A lot of the choices I made through Alex were choices I wish I could have made when I had been in similar situations, but felt too scared to do so. I cried a lot in that game, it felt very personal, and in many ways I found it even more beautiful because of that. It gave me a chance to feel those emotions I had kept hidden away for such a long time without even realising it. It was very cathartic."
Gaming Differently
One contributor commented on the similarities on OCD and ADHD, mentioning that "getting a second screen helped a lot. It allows me to do two things at all times, so if I do play a slow game say like TFT, I can also be doing something else on my other screen. Sometimes if I play a really slow game, I might have another on the other screen. I have a tendency to hate slow games, but no one else would consider them that. So as an example, I struggle with games like Valorant and R6 Siege during the beginnings and endings of rounds because there's just too much downtime in-between for me, especially if I died early in the round, right?"
Lottie mentions Unpacking as a game that they find is great for their OCD – "everything has a set place (or usually a few) so it encourages you to challenge your compulsions rather than go back, check somewhere and try placing an object 100 times. Getting to unpack/neaten things also just fills my brain with so much serotonin and the soundtrack is beautiful!"
A game mechanic that can be helpful to gamers with OCD is more liberal save points. Ysobel discusses this, "Save points or limited save slots are very stressful. Being able to see when I save and making multiple saves before I shut the game down helps with the annoying fear of losing my game progress… OCD can make you a bit of a pack rat where you don't want to throw anything out in case you might need it, so it makes me stressed to know I must give up a save to add my latest progress."
Jamie C shares that "loot based games, strategy games and other games games with a rich plot tale help [me]. I get so engaged in the storyline, or the gameplay, that my mind really focuses in on that, which is quite unusual day-to-day for me. Some examples of ones I find helpful are: Borderlands series, Elder Scrolls Series, Total War Series. If I have been struggling with my OCD, immersion into one of these is great for me."
Chad talks about the value of farm simulation games for their own OCD, "there's a lot of given tasks that I'm going to do every day. It's usually done on a calendar with seasons, and I really like getting into a pattern. Sometimes with OCD we really like patterns – it can also be negative, but in terms of the game knowing I'm going to go cut some wood, make some charcoal etc. Scheduling out my days helps."
Looking Forward
Explaining the reality of having OCD and correcting common misconceptions is a good start, but what can the games industry in particular do to support employees and gamers with OCD?
Ellie Law addresses the awareness aspect of OCD in the gaming industry, "the support I'd most like to see in the video games industry is understanding. A basic of understanding of what OCD is, and how different and complex it can be person-to-person goes so far." Luke agrees, adding that it also applies to wider society; "The sooner this becomes more widespread, the easier life will get for those suffering, to ask for help or just say when things are tough."
Gabe explains how "people in positions of power need to understand that having this condition is not some quirky superpower."
The whole "I'm OCD about this" trope has never really gotten properly addressed. I still hear it pretty frequently in gaming circles.
"Hearing that sort of casual tossing around of "OCD" risks minimizing the pain it causes people who have the condition, and that obviously isn't the intention of those using it that way, but it can desensitize them when they meet someone who actually has OCD."
Education around OCD is important to enable companies and fellow employees to be more empathetic and reactive to it. This can be especially impactful when implementing change management.
Lottie recommended something similar, saying "if something big happens in the company or to an employee, please be as transparent as possible about it; also reassure people that they're doing a good job! I have magical thinking OCD and cannot tell you how often I have acted out compulsions out of fear of 'not getting a promotion' or 'getting fired'. Communication and time scales (when possible) are so important for people with OCD, it helps us tick a metaphorical box in our mind to battle against our compulsions! I'd encourage every workplace to learn more about OCD, there are so many types that affect people in different ways."
Mario dives into the world of game development projects and the impact of a lack of feedback from employers during the hiring process. "As we know, the industry is treacherous to navigate right now – supply is low and demand is high – and it is disheartening for anyone, let alone someone battling mental health concerns. I know how difficult of an ask this is, but the best way for the industry to provide support is to find a way to offer some form of feedback with rejections. The unknown of how to proceed with future endeavors takes its toll."
Victoria sums it up nicely, adding that "I would love to see more support and understanding for those living with OCD, but also support and the opportunity to learn about the condition for the wider industry as well. Without wanting to sound too High School Musical, we are all in this together, and educating more people on the matter, and providing the resources to keep the dialogue around mental health open, would be a huge step in the right direction."
I (Rosie) started this article with the intention of curating experiences and support for those with OCD in the games industry, and feel as though I've brought together something quite special, with the power to change people's understanding about gaming and OCD. One of the most important take-aways I wanted from this were call to actions to our industry and to each other – so to our readers – please do your part in making our industry a safer space for everyone.
Don't Take It Personally: A Free Guide to Self-Advocacy Speaking
"Don't take it personally" is a phrase many of us have come across in our lives and it often frustrates and upsets us when we hear it.
It disconnects us from each other. It is synonymous with our lives in the workplace where we sometimes feel our identities, emotions and needs have to take a backseat.
What if there was another way? While the phrase may be problematic, there is a grain of truth hidden inside it, one which we'd like to share with you and show you how it can be used to better connect with people and safeguard fundamental parts of your identity.
Our new and upcoming talk introduces the concept of Self-Advocacy Speaking, a new way to understand challenging situations and find better words and ways of speaking to navigate them.
In this talk we will introduce and invite you to the forthcoming 3-part online programme in October through to December wherein we teach this healthier way of communicating and show how you can implement it at work by creating your own unique 'Human Handbook', an inclusive guide to help people work with you.
Self-Advocacy Speaking is ultimately a language, a literacy for our lives, where needs are shared, and connections are made.  This is a pioneering communication method in wellbeing and mental health in the creative industries, one that is rooted in psychology, diversity & inclusion, and workplace resilience.
It's a language we instinctively knew when we were young but as adults, we have been largely conditioned to use other ways of communicating that often reflect a need to survive in modern society, ways that dominate, protect and control, breaking down essential connections between us.
This 3-part programme is designed not to teach you a new language, but to reconnect you with what you already know, and bring it back out into the open for your benefit and for those in your lives at home and at work.
A language is built from a vocabulary and a grammar, a structure or framework.  We need to look at both parts before we start speaking it again and expressing our thoughts and needs to others, which is what this programme is designed to do.  I (Lisa) introduce the language of Self-Advocacy Speaking in 3 steps, looking at better words to use and healthy ways to construct requests that boost connection and ultimately benefit our needs.
Breaking the Stigma: Embracing Authentic Mental Health Representation in Gaming
In the captivating world of video games, a remarkable shift has taken place, daringly delving into the realm of more stigmatizing mental ill health.
These games, with their inclusive and authentic character representations, are proving to be powerful tools in promoting mental health awareness and understanding. Leading this charge is the critically acclaimed video game, Hellblade: Senua's Sacrifice, an award-winning action-adventure that takes players on an emotional journey through the mind of Senua, a Pict warrior battling her psychosis.
As you progress with this game, you'll figure out that mechanics aren't just for entertainment, they play a pivotal role in our mission to promote understanding of personality disorders. By immersing players in the world of Senua, the game offers a unique and empathetic journey. Through confronting her inner demons, hallucinations, and delusions, players gain profound insights into the challenges often faced by individuals with personality disorders. The game's mechanics provide a safe space for emotional expression and teach resilience in mental health battles. Join us in exploring how these groundbreaking game mechanics foster empathy and compassion, breaking down stigmas and paving the way for a more supportive society. Let's pick up that controller and embark on a transformative experience together!
The days of stigmatizing mental health issues in video games should be over. Instead, we find a newfound emphasis on authentic representation, allowing players to resonate deeply with characters experiencing personality disorders. As developers craft characters with realism and depth, players find solace in connecting with their struggles, breaking down the barriers of stigma surrounding mental health.
Hellblade: Senua's Sacrifice stands as a testament to the power of empathy and understanding that video games can evoke. Players are fully immersed in Senua's challenges, confronting her inner demons and experiencing her hallucinations and delusions firsthand. Through this immersive experience, players gain profound insights into the complexities of living with a personality disorder, fostering compassion and empathy for those facing mental health challenges.
Yet, the impact of these inclusive games extends beyond the virtual realm. Gaming communities, known for their camaraderie and acceptance, offer safe spaces for individuals with personality disorders to share their experiences openly. In in-game discussions, forums, and online communities, players find support, understanding, and a sense of belonging. These interactions dismantle the walls of isolation, replacing them with an environment of acceptance and support.
Remarkably, video games also demonstrate therapeutic qualities. Engaging with games like this provides an avenue for emotional expression and catharsis. Players find respite from real-world stressors as they navigate the challenges within the game. The sense of accomplishment derived from overcoming these challenges bolsters self-esteem and resilience, fostering positive mental well-being.
However, with the power to shape perceptions comes great responsibility for game developers. They play a pivotal role in ethically portraying personality disorders and similarly stigmatized mental health representation in their creations. Through consultation with mental health experts and advocates, developers can ensure accurate representation, striking a delicate balance between authenticity and entertainment. Responsible portrayal enriches the gaming experience, deepening players' understanding of mental health issues.
Hellblade: Senua's Sacrifice and similar games shine as beacons of hope in the gaming industry. They break down long-standing barriers, shedding light on the realities of living with mental ill health that is often misrepresented. In this new era of gaming, authentic character representation encourages players to embrace empathy and understanding, fostering a compassionate and supportive environment for all.
The potential of video games as a medium for mental health awareness is undeniable. As these games transcend entertainment, they inspire positive change, dismantling the stigmas surrounding mental health. With every character's journey, players are encouraged to reflect on their relationships with mental well-being, nurturing an open dialogue about mental health challenges.
The gaming industry now stands at the forefront of an important movement. With a controller, players embrace a new narrative—one that champions mental health, empathy, and acceptance. The impact is profound, extending beyond pixels and screens, and into the very fabric of society.
As we continue our journey, we must recognize the immense power these inclusive video games wield. They inspire us to be catalysts for change, raising our voices against stigmas and fostering a culture of understanding and support. Together, let us celebrate this remarkable fusion of gaming and mental health awareness, paving the way for a brighter, more compassionate future.
Engaging in this gaming experience, a remarkable phenomenon occurs at the end, where the last enemy materializes, representing a manifestation of the player's subconscious. Confronting this entity becomes a significant challenge, and while players may strive to overcome it, the task proves insurmountable. As the confrontation unfolds, emotions may surface, leading to a profound and poignant experience.
This aspect of gaming imparts a powerful lesson: in the face of mental health struggles, individuals instinctively persevere, determined to prevail. Nevertheless, the reality of such efforts is often more formidable than anticipated. The message to never surrender remains paramount. This unique capacity of games to mirror and assist in addressing personal challenges reveals their potential as steadfast companions, proving that individuals need not confront their battles alone. Games might be your partner.
---
Written by Davide Misani
Davide Misani (He/Him) is an independent communication expert for the Game Industry. University training and 10+ years of cross-industry experience, give him an understanding of how games can affect society and how to use them to engage people.
Navigating the Complexities of Borderline Personality Disorder (BPD) and Rediscovering Purpose in the Games Industry
Since my earliest years, I've always sensed a profound difference within myself, as if I didn't quite fit into the mold of "normal" childhood. It took me a long while to truly understand what was going on during this time. 
Content Warning: mentions of suicide attempt, drug overdose, abuse, depression
Growing up was a bewildering experience. I couldn't help but notice how other kids' parents eagerly engaged with them, taking them on exciting outings and speaking to them with warmth and affection. It was a stark contrast to what I knew at home, where resentment and pain seemed to seep into even the smallest interactions. Sadly, those around me didn't grasp the impact their behavior would have on my life in the long run, lacking the knowledge and understanding to navigate the challenges I faced. 
School was far from easy; there's no sugarcoating that. I felt like a misunderstood child, carrying deep-rooted issues from my home life. It led me to act out in school, trying to make sense of my own emotions and seeking the connection and support that eluded me. Unfortunately, this pattern continued throughout my formal education, resulting in suspensions and, eventually, my exclusion from secondary school. 
At the age of 18, my world was turned upside down when I received a diagnosis that carried a heavy weight and a sense of impending doom. Borderline Personality Disorder (BPD), a complex and often misunderstood mental health condition, became an unexpected hurdle that defined much of my adolescent and young adult years. The journey that unfolded was riddled with challenges stemming from the lack of understanding and support I encountered, both from society at large and from those closest to me. These barriers, coupled with a tumultuous childhood marked by various forms of abuse and the premature confrontations with death, left me grappling with profound mental and emotional damage. The struggles I faced throughout school, compounded by the stigma surrounding BPD, often left me questioning my potential for success in life, although back then, the notion of success itself was distorted and elusive. 
Enduring Trauma and Breaking the Silence
:
Throughout my formative years, I endured a relentless series of traumatic events that tested the limits of my resilience and pushed me to the brink of self-destruction. The chains of addiction, the unbearable weight of grief from losing loved ones, and the enduring scars of mental and physical abuse became the harrowing backdrop against which I lived. Growing up in an area with limited support systems only magnified the difficulties I faced. As someone with borderline personality disorder, I found myself imprisoned by the weight of societal stigma, leading to a cycle of silence and isolation. The world remained oblivious to the battles raging within, and I, too, struggled to find the words to articulate my internal turmoil. This self-imposed silence perpetuated a negative feedback loop, suffocating any hope of understanding and connection. 
A Glimpse of Hope Amidst Desperation:
In a particularly bleak moment of desperation, I found myself in the grip of an overdose attempt, convinced that the concoction of pills would bring an end to my suffering. However, fate had other plans, and I survived the excruciating ordeal, enduring 48 hours of mental and physical agony. Anyone who has faced such a situation can attest to the indescribable anguish it entails. But it was during my hospitalization, connected to various tubes and fluids, that a profound realization dawned upon me—I needed to change and invest significant effort into understanding and improving my mental health. Thus began a journey that spanned years, characterized by unwavering dedication and a determination to unravel the intricacies of my symptoms and confront the deep-seated pain accumulated over a lifetime. Countless nights were spent meticulously documenting my trauma and its impact on me, tears flowing as I ventured down the path of healing. This process of understanding became instrumental in fostering growth. However, it is important to note that unearthing buried anguish can also give rise to dormant inner demons, which posed their own challenges along the way. 
The Struggle for Survival:
Startling statistics indicate that approximately 1 in 10 individuals with BPD will attempt suicide at least once in their lifetime, with a tragic success rate. In my case, this marked the third time I found myself standing on the precipice of life and death—an experience further complicated by my towering physical stature, which presented unique disadvantages. 
The Path to Recovery:
Navigating the treacherous path to well-being was far from straightforward. It required months of dedicated research into BPD, exploring not only its symptoms but also the comorbid disorders that intensify its challenges. Simultaneously, I focused on rebuilding my physical health through exercise and diet, being a chef came in handy!
A valuable resource in my journey of recovery was Dr. Daniel Fox's borderline personality disorder workbooks, which offered comprehensive insights into the traits, symptoms, causes, and coping mechanisms associated with the disorder. Taking the initiative, I sought out weekly therapy sessions, a pivotal step in my journey towards rebuilding a sense of self and establishing healthy boundaries. These therapy sessions have played an instrumental role in my healing process, empowering me to develop a deeper understanding of positive beliefs and cultivate healthier perspectives.
Additionally, therapy has provided a safe space to explore the symptoms of post-traumatic stress disorder (PTSD) that I experience, equipping me with valuable strategies to effectively combat and manage them. Through this ongoing therapeutic journey, I am gradually reclaiming control over my life and forging a path towards lasting emotional well-being. 
Rebuilding and Rediscovering Purpose:
Having regained a more positive mental state, I embarked on a profound journey of rebuilding my life and rediscovering my sense of purpose. The shifting landscape of work brought about by the COVID-19 pandemic provided a unique opportunity for growth and self-discovery. 
Determined to learn as much as possible from talented individuals, I initially delved into the realm of web3 recruitment, a learning curve that tested my abilities and expanded my horizons. Guiding and assisting others in finding their new career paths became a source of deep fulfillment and passion for me, particularly within the exciting domain of gaming. It was during this phase that I had the privilege of crossing paths with Liam Brennan, the CEO of Companion Group. My success in placing candidates effectively and empathetically led to an invitation to join Companion Group, a company that aligns with my passion for an industry I have long admired. 
At the time of joining Companion Group, I found myself in a slightly diminished mental state, with my borderline personality disorder relentlessly battering my self-worth. The familiar inner voice telling me that I didn't deserve this opportunity echoed repeatedly. However, I quickly realized that openness and honesty were key components of my recovery. I mustered the courage to have candid conversations with our CEO and other senior members of the team, sharing my struggles and vulnerabilities.
To my immense relief, I discovered a culture of compassion and empathy within Companion Group. Though they may not fully comprehend the depths of my internal battles, they approached my challenges with understanding and respect. This support system significantly reduced the time required for my recovery whenever borderline personality disorder symptoms surfaced. Whether triggered by external events resulting in PTSD episodes or a cascade of self-imposed shame and guilt, open conversations with my colleagues facilitated the necessary space for healing and rejuvenation. In instances where burnout weighed heavily on me, the understanding environment at Companion allowed me to take the time I needed for recovery, ensuring that I could return with a revitalized spirit in the afternoon. 
While my journey is not without its hardships, such as waking up with a heavy heart and a pervasive sense of burden, I am grateful for the daily opportunity to engage with work that aligns with my passions. The industry leaders I collaborate with and the diverse responsibilities I have undertaken in HR, IT, and marketing at Companion Group provide me with invaluable opportunities for personal and professional growth. Acknowledging the complexity of my inner battles, I have learned that open and honest communication, coupled with empathy and understanding, not only aids my recovery but also cultivates respect and motivation to contribute wholeheartedly to the company's mission. 
In conclusion, my journey of rebuilding and rediscovering purpose has been arduous but transformative. Through unwavering determination, a commitment to self-improvement, and the support of a compassionate workplace, I have not only surpassed the limitations imposed by BPD but also found fulfillment in helping others while pursuing my passion.
I remain dedicated to my ongoing healing process, with the belief that open dialogue, empathy, and a supportive environment will continue to shape my personal and professional growth as I strive to make a positive impact in the world. 
---
Written by Charlie Mullins, Companion Group  
Skills utilised:
News, Stories
Ubisoft UK celebrates Level Up Partnership & Commitment to Wellbeing
Celebrating our commitment to wellbeing and our partnership with Safe In Our World as a member of their Level Up Mental Health Campaign
Since 2018, Ubisoft Reflections and Ubisoft Leamington have been running a wellbeing programme based on the four pillars of Safety, Awareness, Prevention and Support. During this time, we have sought to raise awareness of mental health at work, and the factors that contribute to our mental health at work, and we made a commitment to provide wellbeing support to our team members as outlined in a new Health and Wellbeing Policy. After that time, we continued to put many other initiatives in place, and we took part in Mind's Workplace Wellbeing Index in 2020 to receive valuable feedback to help us continue to build on our programme. One of the recommendations we were given was to make an external commitment to supporting mental health.
In September 2022, Ubisoft joined Safe In Our World's Level Up Campaign to show a commitment to supporting wellbeing, and to unite with other industry employers to raise awareness of mental health across the industry. Our two studios, Ubisoft Reflections and Ubisoft Leamington, have been working with Safe In Our World to further our wellbeing programme, share best practice and raise awareness across the UK games industry.
Some examples of what we have achieved since joining Safe In Our World include:
Launching in-house mental health training
One of our team members has trained to become a licensed Mental Health First Aid Instructor through MHFA England and has trained 50 team members and managers in our studios since September 2022, as well as training 10 members of the Ubisoft CRC team. This training is ongoing and will continue this year. Additionally, our MHFA instructor also became a Mindfulness Champion through Breathworks and has delivered internal mindfulness sessions as well as creating and delivering a Managing Anxiety session for Mental Health Awareness Week 2023.
Recruiting 20 new Wellbeing Champions to provide support
We had an existing Wellbeing Champions team before joining the Level Up campaign, but we ran another recruitment campaign in January 2023 and doubled our team from 19 to 38 Wellbeing Champions, representing all job families and levels of seniority across our studios and roughly 10% of our total studio population. We feel 10% is a standard that allows for flexibility of choice in who our team members can speak to about their mental health and other wellbeing related issues.
Offering further training to develop our Wellbeing Champions
All of our Wellbeing Champions have had Mental Health First Aid training, however since joining Safe In Our World, we have also offered them Workplace Sleep Ambassador training through The Sleep Charity, Neurodiversity and Mental Health training through Expand the Circle, and Loss and Bereavement Training through the Cruse Bereavement Charity. This allows our Champions the chance to further their knowledge and skills in supporting wellbeing and specialise in certain wellbeing topics which they may have more personal interest in promoting.
Expanding our private medical insurance to include gender dysphoria cover
We support our trans employees and have expanded our medical coverage to include gender dysphoria – this cover includes diagnosis, mental health appointments and endocrinology consultations.  Our insurance policy already included a virtual GP service, physiotherapy service, fast track consultations with specialists, psychiatric cover and a Stronger Minds mental health therapy option and there is an option to add dependents if desired.
Sharing more 50 personal stories and articles from our Wellbeing Champions
Our Wellbeing Champions have written and shared more than 50 articles, many of them including personal sharing, on topics including financial stress, bereavement and grief, maternal mental health, alcohol harm, suicide prevention and many more.
Organising more than 20 wellbeing events, both virtually and on site
We ran physical health checkpoint sessions for our team members to receive individual lifestyle advice from a nurse practitioner, we also had a range of social events on site with our Wellbeing Champions and 17 webinars on topics like Suicide Prevention, Seasonal Affective Disorder, Men's Health, Women's Health, Social Anxiety and more.
We launched a new flexible pay app, Openwage, to help our team cover short term costs, as well as hosting several workshops on financial topics, offering free lunches and expanding breakfast options and continuing our one-to-one pension meetings with financial advisors.
Taking part in the Mind Workplace Wellbeing Index 2023
We took part in Mind's Workplace Wellbeing Index again, launching the employee survey on Time to Talk Day in February 2023. We are pleased to have received a Gold Award from Mind and two of our Wellbeing Champion Leads jointly won the Wellbeing Champion award in Mind's Employee Recognition Awards. We received some valuable feedback that will continue to work through over the coming year.
Launching a wellbeing room on each site
Both of our locations now have a wellbeing room. Our wellbeing and sensory room at Reflections studio is designed with neuro-inclusion in mind with a rocking chair, adjustable lights and sounds, scent pots, fidget toys and many other items that can be used for stimulation or relaxation. Our wellbeing room in Leamington is in progress and will be updated soon.
Sharing best practice in the industry
We took part in a Level Up Podcast to talk about our Sleep Ambassadors programme, delivered a talk on Supporting Wellbeing in Game Development at the Ukie hub crawl event in Newcastle upon Tyne, and joined a Safe In Our World panel for stress awareness month in April 2023. We also shared a stress risk assessment template and contributed to an article that month to raise awareness of managing stress at work.
Fostering an inclusive workplace
Inclusion is key to wellbeing, and we are continuing to work hard to create a fully inclusive and supportive environment for our team and Ubisoft's Employee Resource Groups offer peer support for team members who are less represented. We have launched local chapters of UbiProud and the Neurodiversity ERG and have plans this year to create new local chapters for other Ubisoft Employee Resource Groups as well.
We are proud to be partners with Safe In Our World and hope to collaborate on many projects in the coming years and take part in industry-wide initiatives to improve mental health, raise awareness, and reduce stigma.
no layouts found